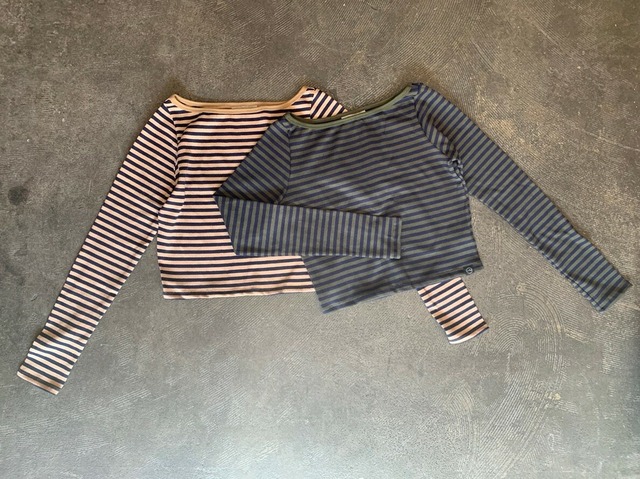 STRIPES LONG TEE:O-013
Japan domestic shipping fees for purchases over ¥30,000 will be free.
Shipping fee is not included. More information.
こちらのロングTシャツはレディースサイズのみとなっております

サイズ感は
生地が少し伸び縮みする素材なので、体に程よくフィットして着ていただけます

ショート丈の長袖Tシャツなので
ハイライズのボトムに相性ぴったりなアイテムです!
ボートネックで首のラインも綺麗に見えて、
カジュアルになりすぎないようにしています

着丈はショート丈で、おなかがチラリと見えるくらいの大胆な雰囲気にしてみました♡

色はどんなボトムにも合わせやすいシンプルな色を選びました

こちらのロングTシャツは生地・縫製の全ての工程を日本の工場さんにお願いをして作りました。
裾に「One and only works」のピスネームを付けてワンポイントに。

生地は綿100%の天然素材で、柔らかい生地感です。
伸び縮みする生地なので、乾燥機のご使用はお避け下さい。


素材:綿100%
モデル身長:162cm
着用サイズ:M

Quality:100%Cotton
Model infomation:5'3" (162cm)
Wear size:M


COLOR
▽KHAKI×NAVY
▽BEIGE×NAVY

SIZE:(cm)
着丈:鎖骨から裾までの長さ
M:着丈46 身幅44.5 袖丈65
L:着丈49 身幅47 袖丈68

SIZE(cm)
M:Body Length 46 Width 44.5 Sleeve 65
L:Body Length 49 Width 47 Sleeve68

※商品の発送は、商品の注文後、営業日3日以内に発送します。

This long T-shirt is only ladies' size

Sense of size
Because the fabric is a little stretch fabric, you can wear fit moderately to the body

Because it is a short-length long-sleeved T-shirt
The item is compatible with the pants of the high-waist!
The neckline looks beautiful with the boat neck,
I try not to be too casual

Body Length is short length, so you can see a little abdomen, it is a sexy atmosphere

The color chosen was a simple color that was easy to match with any pants and skirt.

This T-shirt is made by asking the Japanese factory for all the processes of fabric and sewing.
Add a spice name of "One and only works" to the hem to make a point.

The fabric is 100% cotton natural material, it feels like a soft fabric.

Because it is an expanding and contracting fabric, please avoid using a Tumbler dry

Shipping less than 2Kg will be deducted after purchase.Import duties will be borne by the customer.
Add to Like via app
Shipping method / fee

Payment method